Blue Ridge Power is pleased to announce the expansion of its PowerUp Apprenticeship Program across the United States. In addition to North Carolina, PowerUp is now an official Registered Apprenticeship in Texas and Missouri, certified by the U.S. Department of Labor.
PowerUp is aimed at building a professional, skilled workforce to meet the rising demands of the clean energy EPC industry. The recently passed Inflation Reduction Act (IRA), designed to strengthen America's energy security and tackle climate change by incentivizing renewable energy generation and construction, also provides tax benefits to employers who have percentages of their labor performed by apprentices participating in a Registered Apprenticeship program. As PowerUp continues to expand, Blue Ridge Power is working towards IRA-compliance to diversify the solar construction workforce and make well-paying careers accessible as America transitions to a clean energy economy.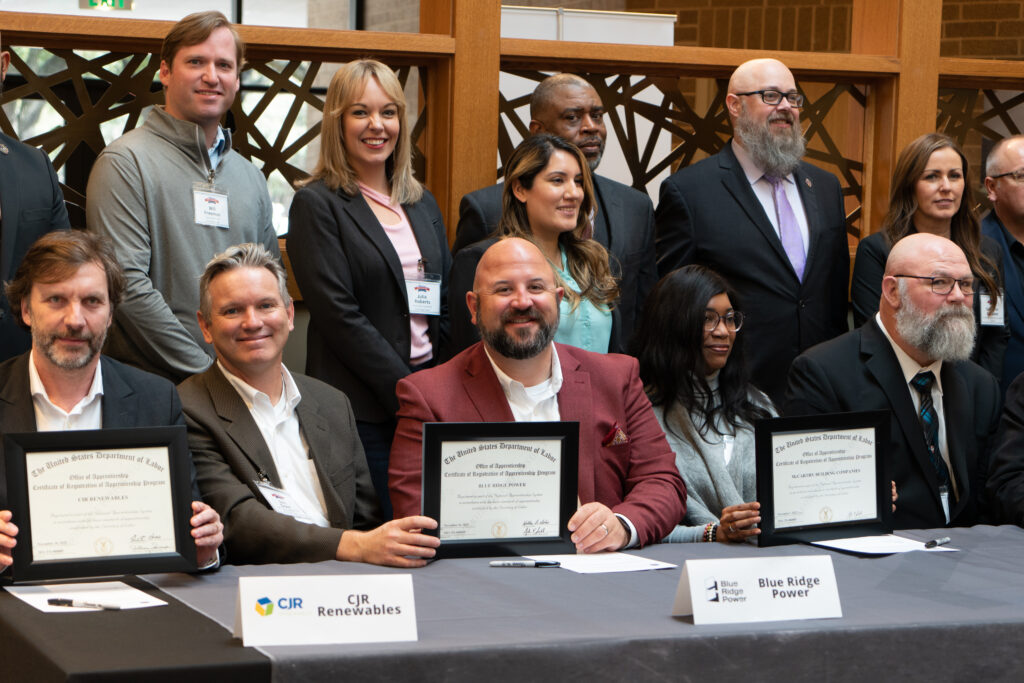 The PowerUp Apprenticeship Program begins with PowerUp Academy, Blue Ridge Power's week-long training program for all entry-level solar installers. Upon completion of the Academy, employees can apply for the apprenticeship, a two-year program in which apprentices receive 3,000-4,000 hours of on-the-job training while also receiving 288 hours of national and industry recognized work-related instruction, creating defined career pathways and upward mobility for employees.
Blue Ridge Power is partnering with Adaptive Construction Solutions (ACS) to establish PowerUp as a Registered Apprenticeship across the country. ACS works in partnership with employers and communities to expand economic opportunity and mobility for all Americans including underrepresented populations, underserved communities and veterans.
About PowerUp Workforce Development Programs
The PowerUp Apprenticeship Program is part of Blue Ridge Power's PowerUp Workforce Development Programs, which also include internships and pre-apprenticeships for high school and college students and working adults. Blue Ridge Power's inaugural PowerUp Program launched in Fayetteville, NC in summer 2022 in partnership with Cumberland County Schools and Fayetteville Tech Community College. Learn more about PowerUp.